Matthew Fuller
DEEP SLEEP
Talk Matthew Fuller, Shu Lea Cheang, Felix Stalder
Maindeck + dorfTV Broadcast / Sat., Sept 8th, 22:30-23:00

Panel "Academy of Error" / Participation Matthew Fuller
PostCity (externer Veranstaltungsort!) / Sun, Sept 9th, 10:30 – 12:30









The talk at STWST-Maindeck - with Matthew Fuller, Shu Lea Cheang and Felix Stalder - will draw on STWST SLEEP48 and Fuller's recently published book, 'How to Sleep, the art, biology and culture of unconsciousness', in order to discuss the relations between sleep in culture, sleep science and an aesthetics beyond a classically formulated subject.  In many accounts and representations of sleep, the sleeper becomes a null field, a placeholder for a thinking being; something that will come back to its senses in due course. Drawing on the pre-socratic philosopher Empedocles, an aesthetics of sleep as a bodily, mediatic and ecological admixture of forces is counterposed to this imagined emptiness of sleep.  The thickets of political and cultural systems that grow in and around sleeping bodies, differentially to waking ones, are obliged to encounter this obstinate, fecund and varied force. 
-
NOTE to the panel Academy of Error, Sun, Sept 9th, 10:30-12:30 - Participation Matthew Fuller. EXTERNAL VENUE POST CITY.
-
Text in Versorgerin #119: Deep Sleep - Matthew Fuller


SLEEP48 was conceived by Shu Lea Cheang and Matthew Fuller.
-
Matthew Fuller is the author of How to Sleep, the art, biology and culture of unconsciousness, (Bloomsbury).  Other titles include How to be a Geek, essays on the culture of software (Polity), Media Ecologies, materialist energies in art and technoculture (MIT), Behind the Blip, essays on the culture of software, Elephant & Castle (both Autonomedia) and ATM (Shake Editions). With Andrew Goffey he is co-author of Evil Media (MIT). He has worked in and with artists groups such as I/O/D, Mongrel and YoHa as well as independently. Fuller is editor of books including Software Studies, a lexicon (MIT), and is a co-editor of the journal Computational Culture (http://www.computationalculture.net). He is Professor of Cultural Studies at Goldsmiths, University of London.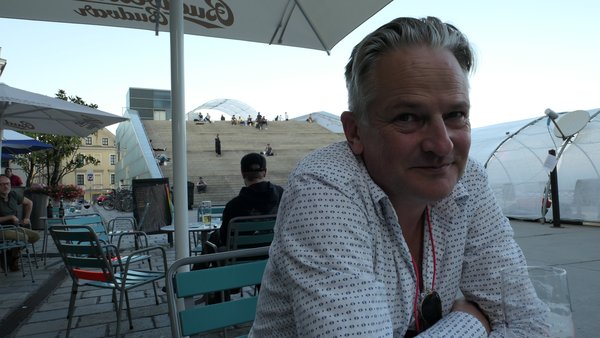 -
As an artist and filmmaker, Shu Lea Cheang has worked with a range of art mediums and film formats, including video art, networked installation, collective performance, net art, public art, feature film and mobile web serial. From homesteading cyberspace in the 90s to her current retreat to BioNet, Cheang takes on viral love, bio hack in her current cycle of works. http://mauvaiscontact.info